Welcome to my new CNC blog,
My name is Martin Masson and I just built a Openbuilds OX CNC!! Yay!!
I'm not someone who is used to share my personal experiences on the web but getting into this CNC project encouraged me to start doing so.  I will try to update this blog with the highlights of my new hobby. Failures and everything.
Bio: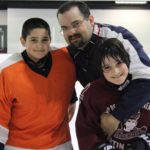 I'm a Senior Technical Specialist (big words to say that I'm good with computers and that I have been doing it for more than 23 years professionally).
I speak French and English
I live near Montreal, Canada
I have been assistant and head coach for the local minor hockey league for the last 5 years.
Disclaimer: I'm not very good at writing articles, this is why I force myself to do it a bit more these days. If you have questions please fell free to ask in the comments I will answer every questions. Thanks for understanding.